As part of our Datawise London work we identified that lots of small charities don't know what tools are available or have relevant use cases for when they could be useful. The classic you don't know what you don't know scenario. One of the areas we felt this was particularly relevant is around all the new low-code/no-code database tools which are appearing.
Until recently, building a database from scratch was the preserve of computer programmers or that one really clever person in the office who managed to get Microsoft Access up and running. But nowadays there are lots of free or affordable "low-code/no-code" solutions designed to allow a non-technical person to build their own database in a matter of hours.
What does low-code/no-code mean?
A low-code/no-code database solution is a software platform or tool that enables users to build, customise and manage databases without the need for extensive coding or programming knowledge. These solutions provide a visual interface, pre-built components, and drag-and-drop functionality to simplify the database development process.
Although this might still sound like a daunting task, they are in fact a great step up from spreadsheets and can be a good solution for small charities with limited financial resources.
What are the pros and cons of going for a low-code/no-code solution?
Accessibility and ease of use
The most significant advantages of low-code/no-code database tools is their accessibility to individuals with limited technical skills. They can remove the need to pay software developers or consultants to set up and support your database. On the other hand, despite the speed and ease of building a database with these tools, it will still require considerable time and attention from one of your team to work out what your requirements are, build the database, import your data, train the team, and keep it continuously updated.
Value for money
Building a custom database from scratch or hiring developers can be expensive for small charities with limited budgets. These solutions allow you to do the work in-house. At Superhighways, we run an Airtable database on a free licence and know several other groups who manage their data in this way. However, you should bear in mind that staff time spent on the database will need to be factored into your budgets.
Most tools offer either a limited free version or a not for profit discount on their paid versions.
Quick to build a database from scratch
Low-code/no-code tools allow for faster development cycles compared to traditional coding approaches. With pre-built components and ready-to-use templates, charities can rapidly create and customise their database according to their specific needs.
However, although it's true that you can have a database up and running in a few hours, the reality is that it still takes a lot of time to work out what you need, prepare your data for the database, test and adapt it, train staff and write user guidance.
We moved all our contacts from Mailchimp and spreadsheets into our new Airtable CRM. There are tools that can take out the duplicates but in the end, one of my colleagues still spent quite some time cleaning all the contacts up. However, even though that was a bit of work, it was also a great way to make sure that the information was up to date, and to start the Airtable database with the most accurate data we could have.
Gijs, Wandsworth Care Alliance
Flexibility and customisation
While you can use templates to help get you started, you can tailor your database to match your unique requirements by adding or modifying fields, creating custom workflows, and integrating with other software tools. This means you can also quickly respond to the changing needs of your organisation. For example, new projects or work streams can quickly be added by you, rather than having to wait for a software vendor to do it for you.
Joining the Superhighways user group was really helpful to see everything that Airtable can do, and to see people run their entire organisations from Airtable, setting up endless automations like sending out welcome emails when people sign up, to integrating their database with Google Maps. The possibilities are seemingly endless. Which is both a good thing and a bad thing as it can be a bit overwhelming. So it's good to know what you would like to use Airtable for and what you'd like to get out of it.
Limited complexity
Low-code/no-code tools are designed to simplify the development process, but that can mean they may have limitations when it comes to handling complex database requirements. If your charity needs advanced functionality, intricate data relationships, or extensive automation, you may encounter limitations. Having said that, we've found them to be adept at handling most requirements.
You need capacity and a certain level of competence, but the geek in me enjoyed the process and it helps you to make your procedures more efficient and systematic. With this sytem you are aware of its limitations from the start so you can navigate those with eyes open.
Learning curve and support
While low-code/no-code tools aim to be user-friendly, there is still a learning curve involved. Users need to invest time in understanding the tool's features and capabilities.
Furthermore, technical support for low-code/no-code tools is usually limited. Most tools offer webinars, user guidance videos, documentation and templates, but actual one-to-one support can be limited. Instead, if you get stuck you might find yourself needing to enlist the aid of a paid consultant to show you how to do something.
A build your own system is a lot of work to get set up. It needs more than one person to take on the responsibility for it and learn how it works from the start.
Automation tools
One of the most exciting developments in recent years is the appearance of automation tools which allow you to write rules to tell your database to perform tasks. Most low-code/no-code database solutions offer these tools built in. So, for example, you could set up a rule that tells the database that every time a new person is added, that person should be sent a custom email welcoming them and asking them to fill out a consent form to store their data, or a quick questionnaire asking for more information which automatically updates the database.
Here's an example of automation in our Airtable database, which sends us different emails when different forms are submitted.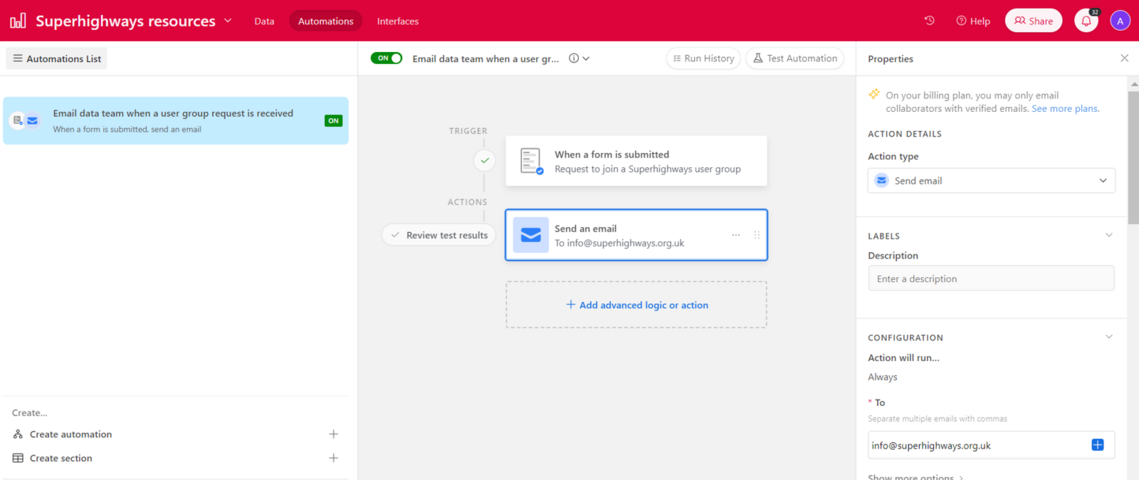 And if the low-code/no-code database you choose doesn't have the automation tools you need, they all interface with leading automation tools like Zapier or Make.
If you'd like to learn more about automation tools, check out our guide Automation & integration tools: Link up your data and automate routine tasks
Dashboards
Another standard feature is the ability to add dashboards which can present a real-time view of your data in an easy to read, summarised, interactive format.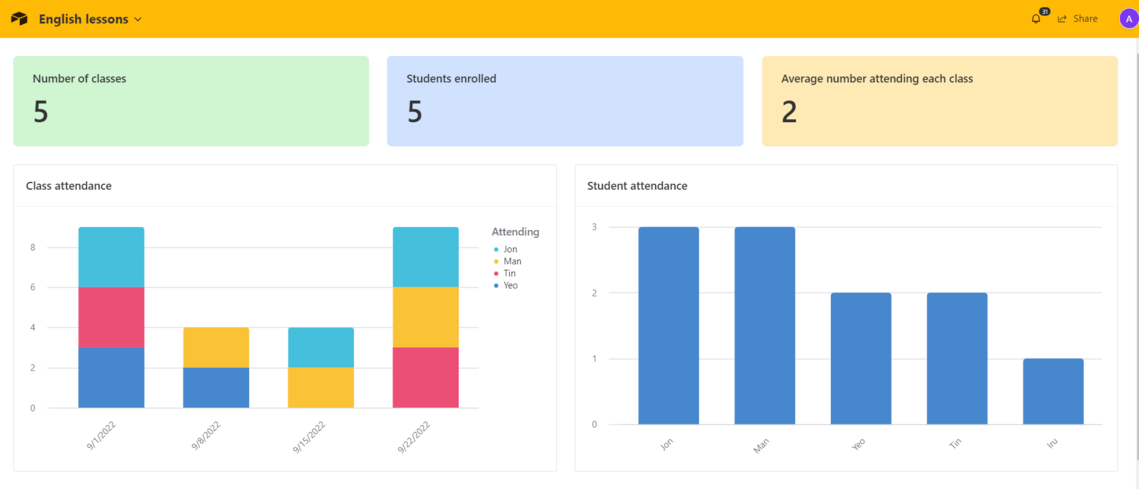 Dashboard example using Airtable
In conclusion, we'd definitely recommend building your own database if you have limited financial resources, requirements that are not too complex and a smallish team. But you'll need at least one person ready and willing to commit to the journey, not afraid to try something new and who can devote time to the project.
We asked some of the organisations we've helped to get started with build your own solutions for their advice to other charities considering this option. Pretty much everyone said that they loved the tools and found them intuitive to use, but that the learning curve can feel steep and it's a good idea to get some external guidance and join a user group to learn from peers. The good news is that everyone we spoke to is loving the fact that they can build what they want, when they want, and are excited about their future developments.
So, if you're still reading and are ready to embark on the journey, your next question will probably be…
Which tool should I pick?
There are a huge number of packages out there ranging from complicated and expensive through to easy and cheap. So we decided to investigate them to work out which would be the best pick for a small charity. Our first step was to define our requirements. We wanted to find a build your own database tool which was:
Free or very low cost
Easy to use, requiring no computer programming at all
Feature rich & flexible
Possible to integrate with other applications
Able to automate recurring tasks
Offering secure data storage and protection
Well used, with an active support community
With UK based consultants for when you need a hand
There are a huge number of options available, all of which are brilliant and tick many of the boxes above, such as Zoho Creator, Bubble, Tadabase, Appy pie and Ninox, but we narrowed it down to two key players - Airtable and Knack, and then decided to put them to the test.
(If you'd like to find out more about Zoho Creator check out our guide Zoho Creator: build your own impact database)
We chose Airtable because it ticked all the boxes above and also because it's already relatively well known in the UK charity sector thanks to several organisations publicly using it, along with the great work of several key players in the charity sector bringing it to people's attention. For example, have a look at Tom & Tom's free Airtable CRM template.
We also chose it because its interface will seem familiar to Excel users, making the leap feel a little less daunting.
And it is free (with an affordable step up level starting at approx £100 per year for more functionality) and felt like a good simple introduction to the world of databases. They do have a 50% charity discount if you need to step up to a Pro licence or want to add more paid licences.

Knack was to be our next step up, for when a more complex solution was needed, but still with an easy to use interface and a reasonable price tag starting at approximately £300 per year. They do offer charity discounts so it's worth contacting them to find out how they can help.

Putting our choices to the test
Our next step was to test out both packages to make sure they lived up to our expectations. We put Airtable and Knack through their paces, building a software database that would allow us to share our favourite tools both internally and with an outside audience. We found that each did the job but with different pros & cons.
| | | |
| --- | --- | --- |
| | Airtable | Knack |
| Cost | Free (with an affordable step up level to approx.. £100 per year for more functionality) | Knack comes in at around £300 a year if you qualify for the 25% NFP discount. |
| Level | An easy to use entry level tool but incredibly powerful. It's simplicity can mean some things feel a little clunky. | Next step up in terms of complexity but this gives you more control and more possibilities. Easy to use to use/Intuitive interface |
| Automation tools | Yes | Yes |
| Dashboard tools | Yes | Yes |
| Support | Support is limited to guidance videos & user documentation. The help centre does offer support but it's limited. There is however a very active community where you can post questions. There are lots of Airtable consultants out there if you're happy to pay for extra help. | As with Airtable support mainly limited to videos and guidance documentation. Their help centre is very responsive but tends to only help with bugs rather than design queries. A very active user community who are quick and helpful to respond to questions. Consultants can give you a hand if you get stuck or want to bounce ideas on how best to tackle something. |
| Superhighways user group? | Yes | Not yet, but if you're using Knack please do get in touch as we're hoping to set one up. |
| Client interaction | It is possible to have external users interact & update data in Airtable up to a point using views and forms but the result is less slick than Knack. | One key advantage of Knack over Airtable is the ability to build a external facing sites where users/clients/donors etc. can access limited subsets of data and update the database directly. |
| Data security (EU or US data centres) | Yes | Yes |
| Take a peek at what it can look like | | |
| In a nutshell | An excellent simple introduction to the world of databases. Airtable will do 80% of what you think you want a database to do and amaze you with all the useful things it can do that you hadn't even realised you needed. | A brilliant database for when need a more complex, customer facing database. It's complexity doesn't make it inaccessible to the non-technical as it's intuitive and easy to use but it does require a bit of knowledge around database structure. |
| Best place to start | Sign up for a free licence. Join a Getting started in Airtable webinar and take a look at Tom & Tom's free CRM template | Get yourself a free trial licence, request a demo and watch the 1 hour long How to build a customer portal video and build your own alongside it. |
Peer top tips
We asked organisations who have built their own databases what they would do differently if starting from scratch and here were their top tips:
Budget for the time element
Bring members of the team with you in the development process so you can develop it together and have more people engaged to train others
Set aside time to train and engage staff to use the tool and overcome their fears of new systems/tech
Brace yourself for a project with no end date. A self-build is an ever evolving and developing process so you don't necessarily get that project closure date
Join a user group/talk to peers/get advice from experts at every step of the journey - you don't have to do it all alone
Document everything you do. It's hard to remember why you made some decisions or how a particular bit of design works. Write explanatory notes for yourself & use field descriptions to define everything - you'll thank yourself for it later!
Get in touch
Please do get in touch with the data team at Superhighways if you'd like some help and support in creating a database.
Here's an Airtable link to contact us so you can see an Airtable form in action. Your request goes straight into our database and we use Airtable automation to send us an email to let us know when you've submitted it.
And, please visit our User Groups page if you'd like to join one of our user groups or suggest a new one.
Published 26 June 2023