Here we outline the stages to creating a custom data set via the Office for National Statistics website.
Step 1
Choose population type - likely to be Usual residents unless you are interested in household data such as housing tenure e.g. owner occupied or private rental.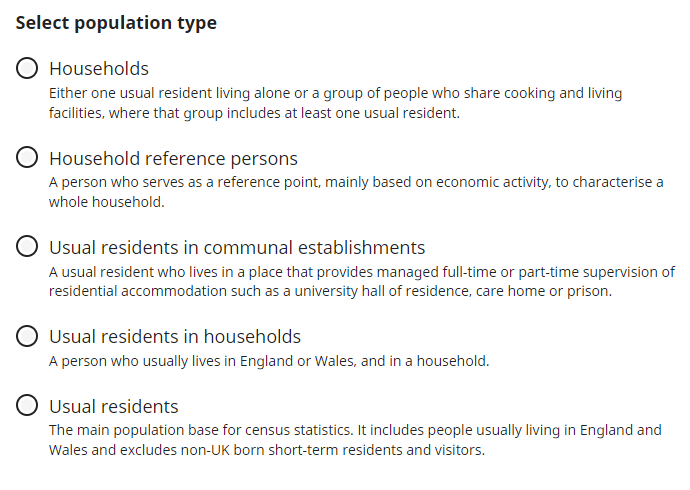 Step 2
Choose the Area you are interested in.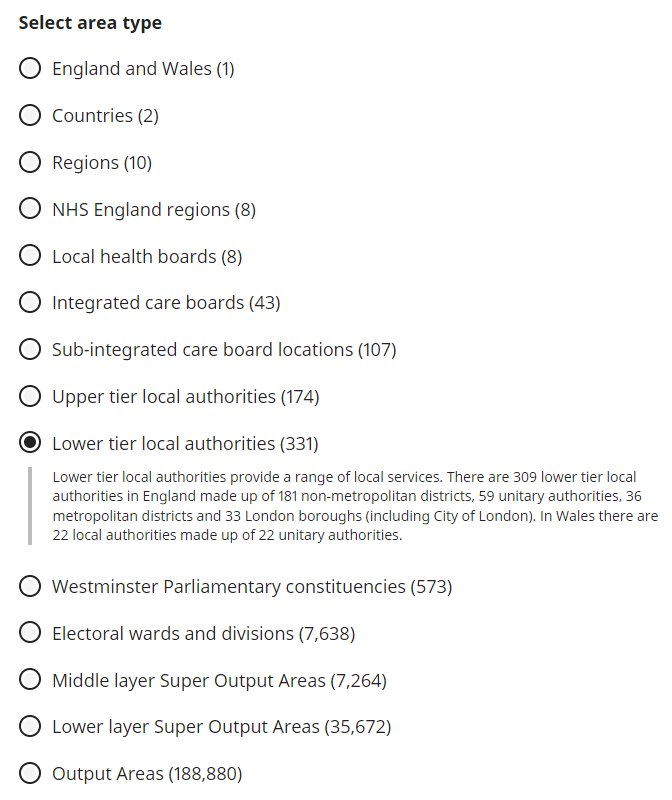 Note - when opting for higher levels of geography e.g. Regions or Local Authority areas, more detailed statistics can be produced. However, if a lower level of geography is used, such as Wards or Output areas (these have a minimum of 100 persons), the statistics produced have less detail. This is to protect the confidentiality of people and ensure that individuals or their characteristics cannot be identified.
Step 3
Choose the coverage of the data you'd like to look at.

For London, Select Region in the Area type and then Enter London in the Select all lower tier local authorities within in a larger area Coverage option and select Add.
Step 4
Now add your Variables. Click to browse and you'll see there are 44 variables alphabetically listed as below. We'd suggest you start with two variables for simple and meaningful comparisons, too many could create an unmanageable dataset which is more tricky to analyse. Once you've selected a Variable, don't forget to click Add.
Age
Age of arrival in the UK
Country of birth
Country of birth extended
Disability
Distance travelled to work
Economic activity status
Economic activity status last week
Employment history
Ethnic group
General health
Highest level of qualification
Hours worked
Industry (current)
Industry (former)
Length of residence in the UK
Living arrangements
Main language
Main language
Marital and civil partnerships status
Method used to travel to the workspace
Migrant indicator
Multiple passports held
National Statistics Socio-economic Classification
National identity
National identity (detailed)
Number of people aged 3 years and over who can speak welsh
Occupation (current)
Occupation (former)
Passports held
Place of work indicator
Proficiency in English language
Religion
Second address indicator
Sex
UK armed forces veteran indicator
Unpaid care
Welsh language skills
Welsh reading ability
Welsh speaking ability
Welsh speaking ability of dependent children
Welsh understanding ability
Welsh writing ability
Year of arrival in the UK
Step 5
Choose you categories. You will be presented by a default category option, but you can Change this.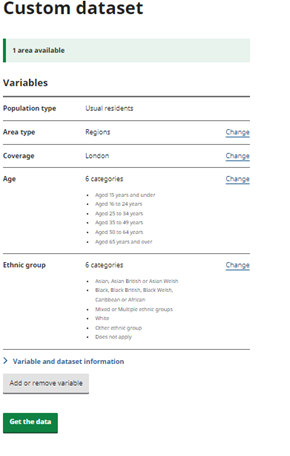 If for example you were particularly interested in older people, you could Change to another category option that a more granular breakdown in this older age range, as shown below. All in all there are over 30 different options for Age categories, so you are bound to find the one that suits best.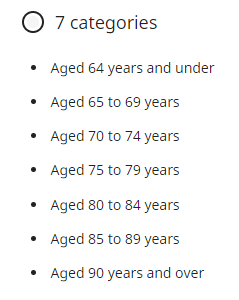 As another example - Ethnic group by default displays as 6 top level categories. But if you click on Change, you can choose another option with 20 different Ethnic groups.
Step 6
Choose Get the data and then select the XLSX format and Download.
Step 7
Analyse in Excel.
We'll be adding a range of resources and support opportunities here to help you create a Pivot Table and then visualise your data in a Pivot Chart.